Dublin Docklands Contemporary Art Exhibition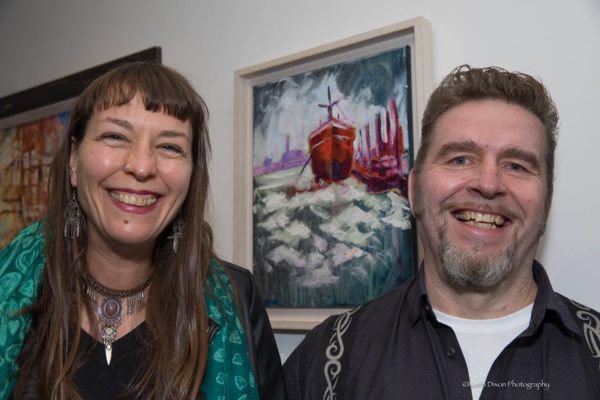 Anja & Rod Coyne smiling in front of Rod's "Red Hull" painting at the official (pardon the pun) launch.
Photo by Keith Dixon.

So if you find yourself wandering the Dun Laoghaire seafront Xmas Market then be sure to make your way down to the former Ferry Terminal and see this exciting exhibition featuring painter Rod Coyne and selected artists. It was a full-house for the launch of  Dublin Docklands on Sunday 19th November 2017, and the show is open daily untill 22nd December at the Ferry Terminal on Harbour Road.
Curator and owner of the Gallery Dalkey Siobhan Bastable launches the show with a glowing endorsement of her artists' work. Photo by Keith Dixon.

New work for the Dublin Docklands
Coyne's "Pigeon House" collection kept visitors rapt with his contemporary take on  Dublin Bay's icon skyline. Two Visitors in animated discussion before three canvases from this singular collection.
Rod Coyne is premiering four new works (re-inventing his #RodSeesRed phase) plus several favorites from his Atmospherics series. Also exhibiting are artists Peter Pearson, Yvonne Moore, Leonard Sexton and Tatyana Tsaryk, Rose Stapleton, John Brobbel, John Short, Sonya Kinch, Keith Dixon, Jane Willoughby, Brigitte McGovern, Jacqueline Holohan, Erika McColl and Dan Henson. This free event is family friendly and we hope to see you there. You'll be treated to ceramics with a twist, gritty photography and paintings in all styles, shapes and sizes.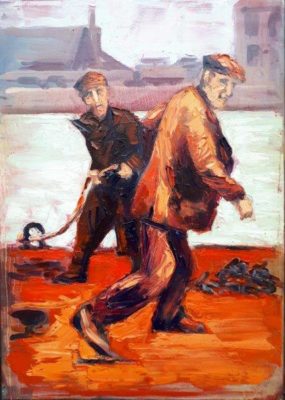 In "Hot Dockers" Rod Coyne interprets a vintage image depicting men at work through a palette of fiery reds, oranges and pinks.
ROD-CAST: Jaw-dropping iconic Dublin Skyline.
As you know Mr. Coyne is a keen vlogger, so sit back and enjoy this whistle stop tour of the "Dublin Docklands" exhibition launch featuring jaw-dropping views of the iconic Dublin Skyline. This two-minute video gives you a great insight to what the Gallery Dalkey have achieved in this singular pop-up exhibition space on the Dun Laoghaire seafront.
Dublin Docklands – Varnishing Day
"I went to wire finishing "Masts at Customhouse" before the show. This painting was going to be my centre piece and it lived up to all my expectations. But despite using plenty of fast drying alkyd paint the picture was just as wet on Sunday as it had been when I finished it the Wednesday before. Five minutes before the show I realised that Murphy's Law had struck in the form of a big magenta smear across the cold grey sky. Armed with baby-wipes I set to work trying to remove the offending streak. I couldn't help picturing William Turner in the recent bio-pic  smudging and gobbing on his canvas as the Royal Academicians looked on in horror. The repair job was mostly successful and there was no fatal damage done to my masterpiece. Its fair to say that my bold, lose painting style tolerates that type of abuse better than any photo-realism could" – Rod Coyne.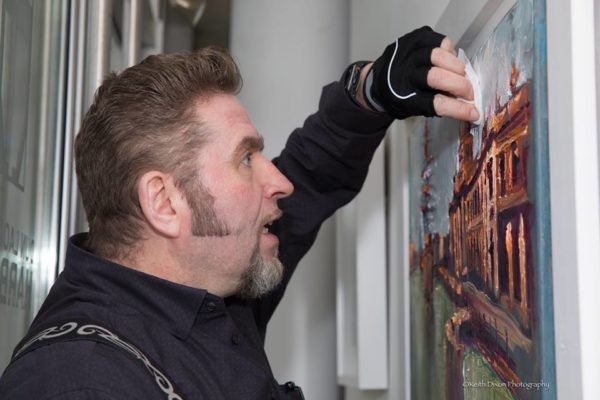 A frantic repair job by Rod Coyne to save his painting "Masts at Customhouse" at the eleventh hour.
Photo by Keith Dixon.
#IrelandsAncientEast  #IrishArt