"I was delighted to be invited to take part in the world's first ever Eco Aware Banksy Project earlier this year. Thirty chosen artists were sworn to secrecy (no social media or any announcements) untill the project had run it's course. Throughout the seaside town of Tramore, Co. Waterford, on the 26th of October, we all donned our masks and anonymously started painting and spraying our Eco message." – Rod Coyne
"The following day the winners were announced and all thirty artists could reveal their identities to the world. To my amazement and great delight I picked up 3rd prize for Banksy Bear. You have till October 2020 (when he will be over-painted for next year's competition) to see him on the rear-side of the Sandcastle Cafe on the Tramore seafront". – Rod Coyne
There's still time to take part in the popular vote for the peoples choice on Facebook or Twitter.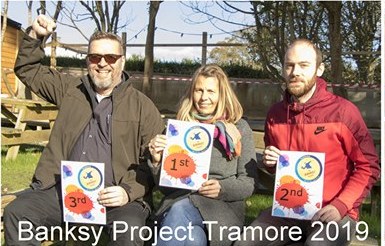 The winners enclosure, artist unmasked and triumphant.
About the project:
The Tramore Banksy Project is a Graffito Art Competition set up by Tramore Eco group. Artists will be invited to come up with an original piece of graffiti that promotes ecological awareness (that's the theme). There will be 30 walls all around Tramore being used as a canvas for the participating artists. Each wall being a max. of 3 x 3 metres in size.The competition will take place over the October Bank Holiday weekend of Oct 30th – Nov 2nd 2019. The winning pieces of graffiti will be rewarded with a monetary prize sponsored by Tramore Eco group. The amount that will be won will be announced soon.This project aims to explore, through irony (this is the important part), the artistic excellence and social statement that is Banksy Art.
"It all started with the idea of a polar floating into Tramore Bay on the last fragment of ice. To boost the Eco message I tried balancing him on a giant plastic bottle, but the scale made a bit of a nonsense of the image. And on the day before the competition I can up with the idea of floating him on an oil drum and did this sketch."
– Rod Coyne
#EcoAwareness #banksy #banksyprojecttramore #Tramore #Waterford #Irelandsancienteast #mideastmezze #SandcastleCafe