Elizabeth O'Farrell was born at 33 City Quay, Dublin on 5 November 1884. She was the daughter of Christopher O'Farrell and Margaret Kenneah. Her father died when she was young, and so she had to go to work. She took a job in Armstrong's, a printers in Amiens Street, Dublin. She joined Inghinidhe na hEireann in 1906. She worked as a mid-wife in Holles Street Hospital in Dublin.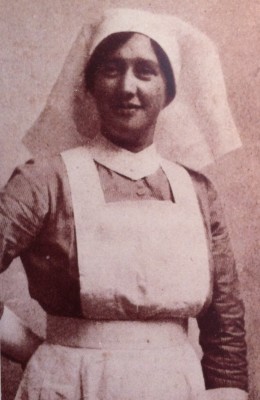 Elizabeth O'Farrell in The Rising
O'Farrell acted as a dispatcher before and during the Rising, delivering bulletins and instructions to the rebel outposts around Dublin. She was one of three women, including Winifred Carney, who remained in the General Post Office, Dublin until the end of the Rising. Along with her lifelong friend and fellow nurse, Julia Grenan, she cared for the wounded including James Connolly. At 12.45 pm on Saturday 29 April, O'Farrell was handed a Red Cross insignia and a white flag and asked to deliver the surrender to the British military. She emerged into heavy fire on Moore Street which abated when her white flag was recognised.
O'Farrell was taken to Brigadier General William Lowe who sent her back to Patrick Pearse at number 16 Moore Street with a demand for unconditional surrender. Pearse agreed and, accompanied by O'Farrell, surrendered in person to General Lowe. Though partly obscured by Pearse, she may be seen in a press photograph taken at the moment of the surrender. The apparent removal of her figure in many subsequent versions of the photograph has given rise to much speculation.
Accompanied by a priest and three soldiers she brought the order to surrender to the insurgent positions throughout the city.
Elizabeth O'Farrell and the Aftermath
Despite Lowe's assurance that she would not be taken prisoner, O'Farrell was held overnight at Ship Street Barracks after the surrender. When he learned of her arrest, Lowe had her released and apologised to her.
She died in Fatima House in Bray, County Wicklow on 25 June 1957. She remained active in Republican politics until her death and she is buried in the Republican Plot in Glasnevin Cemetery alongside Julia Grenan.
Elizabeth O'Farrell Commemorations
In 1967 the Nurse Elizabeth O'Farrell Foundation was established resulting in the unveiling of a memorial plaque in Holles Street Hospital and a foundation to support postgraduate studies in the field of nursing. In 2003 a further plaque was unveiled in City Quay Park. She has been depicted in several plays and TV dramas, including RTE's Insurrection. She was, however, omitted from Neil Jordan's Michael Collins where the surrender is delivered by a man.
Rod Coyne paints Elizabeth O'Farrell
View Elizabeth O'Farrell's finished portrait here.