April 28
@
10:00 am
–
3:30 pm
April 2023 Painting Workshop at Kilmacurragh
Avoca Painting School's Painting Workshop at the Kilmacurragh Botanical Gardens with Rod Coyne, is timed to catch the rhododendrons in bloom along the Broadwalk.
We offer a €20 early-bird discount. So just scroll down to the bottom of this page to book your workshop ticket. Or you can purchase a voucher here for artistic friends & family.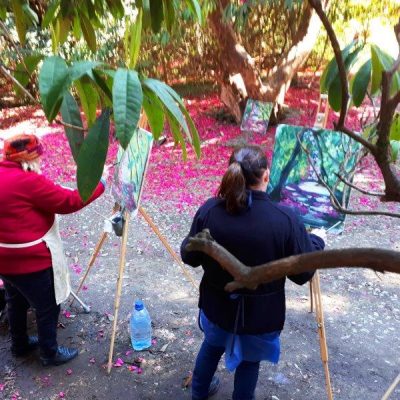 Students depicting a carpet of pink petals at the Kilmacurragh outdoor painting workshop.
Painting Workshop at Kilmacurragh – What's provided?
1. Painting demonstration: from blank canvas to finished picture
2. Drawing tuition and guidance with an experienced, practicing artist
3. Technical advise on colour mixing and composition
4. Direction on interpreting light and reading the landscape
5. Practical suggestions for painting outdoors
6. Historical insights and views of the beautiful Wicklow scenery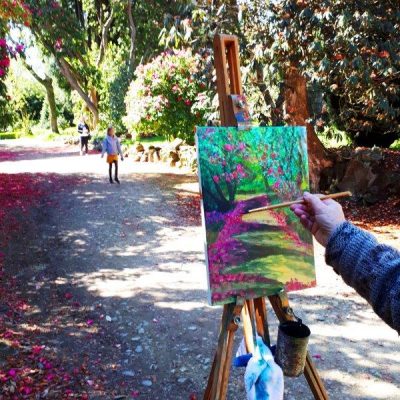 Workshop at Kilmacurragh Itinerary
We meet at this scenic Wicklow location at 10am. And then Rod Coyne will provide a painting demonstration to start the day. This demo is the perfect introduction so the group start their own art works in confidence. Rod is on hand with tips and techniques for all students. And these are designed to be appropriate to students individual level of skill.
There is a much needed break for lunch before completing the days work at 4pm. The emphasis is on enjoying the painting process in an informal and friendly atmosphere. As a result his workshop is suitable for beginners right up to experienced painters. Student are encouraged to learn from their peers, so everyone adds to the group dynamic.
We can provide a full set drawing and painting materials and equipment for the day at a surcharge of € 30 per day. Or students can simply avail of an easel & drawing-board combination at a rate of €15 per day. Please note both of these options need to be booked in advance using the ticket system below. Alternatively students are welcome to bring their own materials and equipment. So must-have items such as paint, brushes, canvas / paper, easels, drawing-boards, rags, jars and solvents will be needed. A list of essential materials is available on request.
Please see our workshop T&C's.
More about our workshops on Facebook and Twitter.
Workshop Demo by Rod Coyne
Painting Workshop: Age Limit, Accommodation & Transport
Avoca Painting School do not provide accommodation or transport. Our workshops are designed for adults, please do not book places for under 18's.
We have prepared a list of local accommodation providers here, to book your own over-night stay. And we recommend car hire or local taxi to get to each painting location.