Ant was here
July 17, 2017 @ 10:00 am

-

July 21, 2017 @ 4:00 pm

€20 – €475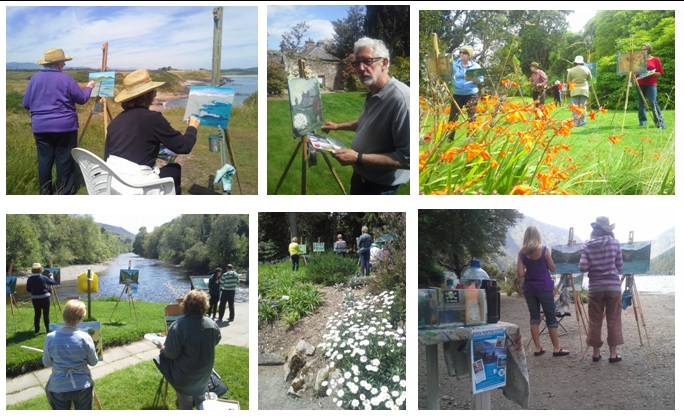 Painting Holiday 2017 with Avoca Painting School
Rod Coyne hosts our Painting Holiday 2017 and this year's will be 17th till 21st July 2017  at stunning painting locations in County Wicklow.
Book your ticket at the bottom of this page.
Scroll down to book your painting holiday ticket or read our workshop itinerary and T&C's.
Painting Holiday 2017 – dedicated me-time
Avoca Painting School's Painting Holiday 2017 allows you to develop your creative side in the midst of the Wicklow Mountains in the heart of the "Garden of Ireland". The week is tailored for absolute beginners and experienced painters. Whether you're starting out and would like to learn new techniques, or have been painting for years and want to take it onto the next level this course is for you. Participants will take home much more than their new creations – working outdoors gives a natural feeling of achievement, fulfillment and recharges the human batteries.
Practicing professional artist Rod Coyne, who has over 25 years experience working plein air, will demonstrate all techniques. While painting everyone will be supported with tips and techniques relating to the use of various materials, composition, colour-mixing and brushwork appropriate to their level. Rod chooses each painting location with care and attention to the needs of his students. He is also keenly aware of the roll weather has to play and carefully factors this into each daily scene. In fact the chosen locations will provide plenty for any non-painters to see and enjoy.
Book your own Workshop Accommodation
Not everyone books accommodation with us and we're fine with that. Many Avoca Painting School students like to take charge and put their own weekend and holiday packages together. We have compiled a list of nearby overnight options to help you book your own workshop accommodation.
Painting Holiday 2017 – Rod's take
"I love hosting the painting holidays because of the group dynamic which builds during the week. We look to create an informal, friendly and fun atmosphere where the art seems to thrive. And it's always fascinating to see how far students develop during a period of total immersion in paint. I see them leave brimming with confidence, having moved from tentative mark making on Monday to attacking the canvas with gusto by Friday" – Rod Coyne.
Save
Save
Save
Save
Save
Who's Attending
16 people are attending SOLD OUT – Painting Holiday 2017