Ant was here
November 15, 2019 @ 11:00 am

-

November 17, 2019 @ 6:00 pm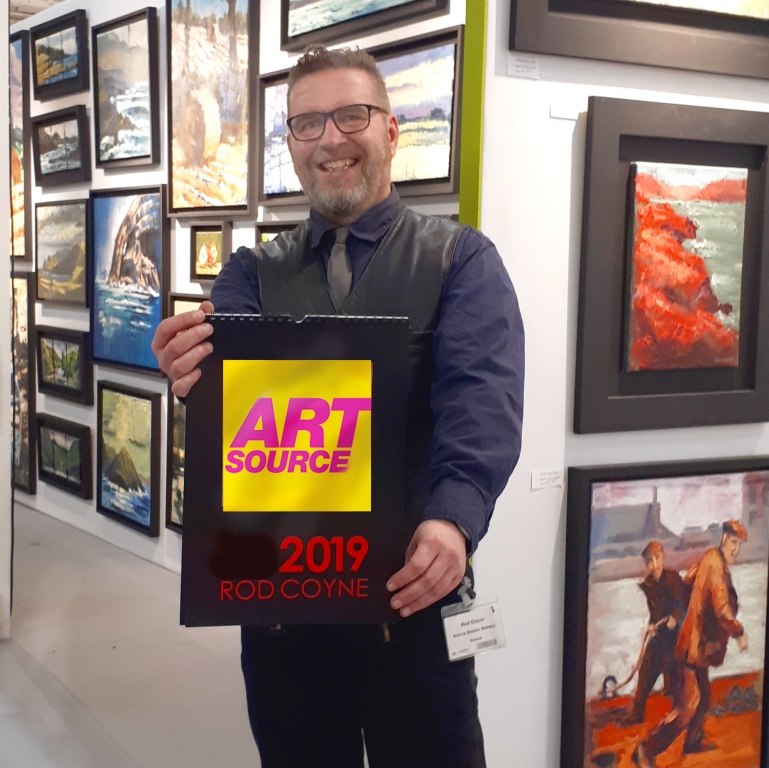 Rod Coyne Returns to the RDS in Art Source 2019
Avoca Gallery's resident artist Rod Coyne is at RDS in Art Source 2019 and will show a range of paintings from key phases during the past decade. His return to the RDS follows 2018's triumphant return to Ireland's premier art fair. He exhibited at the inaugural art fair Art Ireland as it was known 2000, and now he's back with paintings unrecognizable to what he was showing at the turn of the millennium. You'll find Rod on stand J10.
Rod Coyne at Art Source – Free Tickets – Sold Out
We have a limited quota of tickets for both the sneak preview on Thursday evening the 14th and for weekend tickets Friday through Sunday. Just follow to the bottom of this page to order yours. Please note there is a  maximum two tickets per order. So tell your arty friends and make a day of it; there will be something for everybody's interest. The tickets are gratis and we ask that each visitor joins our mailing list in return.
Rod Coyne at Art Source – Stand J10
There are one hundred exhibitors at Art Source this year and it can often be hard to find the one your looking for before your feet tire and its time to sit down. But Rod's stand is really easy to find: walk from the main entrance towards the back left of the hall and you'll find Rod's pitch opposite the stairs in the left-hand corner. And as it happens there is a seating area right there too.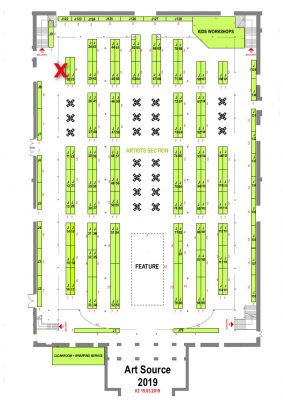 Rod Coyne at RDS in Art Source 2019 – 100 for €100
Art Source have asked each of the artists at Art Source to create one original piece of artwork that they will sell at Art Source for just €100. This is a unique opportunity for visitors to Art Source to acquire a specially commissioned piece of art from some of Ireland's best known and most talented artists for an extremely affordable price.
As each participating artist will only have one piece available for €100 there is a limited number of these artworks available, and when they're gone, they're gone! So, make sure to come early to Art Source and see if you can snap one up!
Rod Coyne at Art Source – Art Fair Details
See the Art Source website here.
Dates and Times
Friday November 15th: 11am-9pm
Saturday November 16th: 10am-6pm
Sunday November 17th: 10am-6pm
Telephone: (01) 670 2186
Email: info@artsource.ie
Admission
Tickets can be purchased at the door.
Adults: €10
OAP's: €8
Children under 16 accompanied by a parent or guardian: Free (this does not apply to school groups)
Group discounts available for 10 or more. Only available if booked in advance of the show. Please contact us on +353 1 670 2186.
Re-admission Pass
If you have not had enough time to browse through the whole show, and would like to return on another day, please visit the Organizers' Office before you leave to claim your free re-admission pass.
There will be car parking available onsite which is provided by the RDS.
Public Transport
Dublin Bus
Bus Routes 4, 4A, 5, 7, 7A, 8, 18, 27X, 45 all have stops on Merrion Road beside the entrance to the show. See www.dublinbus.ie for further details.
Aircoach
The RDS is also served by the Aircoach with stops on Merrion Road and Simmonscourt Road. See www.aircoach.ie for further details.
Dart
The nearest Dart Station to the RDS is Sandymount. This station is a 10 minute walk from the RDS.
Wrapping Service RDS at Art Source 2019
The good people of Art Source offer a complimentary wrapping service for purchases made at the show.