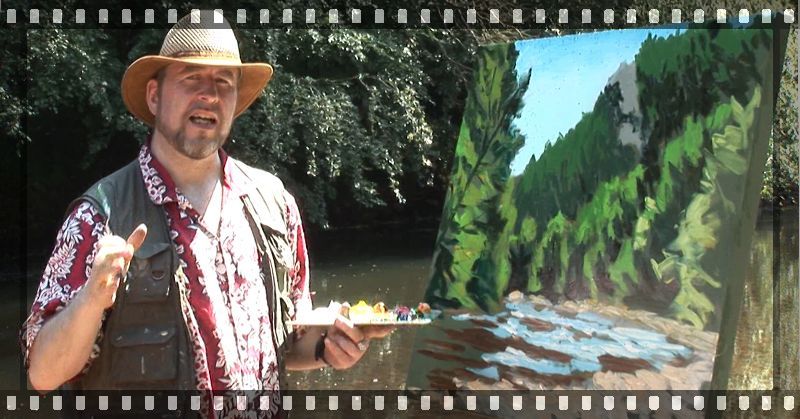 #Stayathome with Rod "Secrets of the Palette Knife" free download
As the Covid-19 lock-down continues we want to pass our time in fun and fulfilling ways. Eager to help, Avoca Gallery brings the mountain to Muhammad with a free instructional DVD download. Now you can paint along with Rod Coyne at home, using this guide to landscape painting in the beautiful Vale of Avoca. Free instructional video and a print-ready reference photo now available. Beat the quarantine blues with this gratis masterclass.

Alternatively, simply download and enjoy a welcome escape to the Wicklow mountains while watching this hypnotizing and meditative insight into the creative process. Creativity boosts our well-being so please share this FREE DOWNLOAD link with your art friends, friends and family the world over.
Together (keeping apart) we can beat the virus-crisis, please stay well
and follow HSE advice.

Open but not Open
The Avoca Studio Gallery has been a "clicks & mortar" operation since 2015. Due to Covid-19 restrictions our gallery doors are currently closed. Fortunately, our online gallery is open for business as usual. We are still sending out paintings, prints, gifts and calendars. Remember to have a regular look in to see our ever-expanding range of Rod Coyne art and read our Gallery Blog.
Patrolling Puffin
At Avoca Gallery we are confined to barracks just like the rest of the nation and half of the planet. And like all firms we're looking to stay connected and stay in business. We are busy uploading new Rod Coyne art onto the Avoca Gallery website all the time. The "Patrolling Puffin" is the first in a series of new canvases to be expected.
Workshop Update
After an Taoiseach's announcement dated March 27th, nationwide lock-down prevails til April 12th. At this point we expect further government updates and will know if our Kilmacurragh workshop on the 25th of April will be going ahead. Avoca Painting School will publish workshop updates on social media and on their website. If you have any questions please contact: info@avocastudiogallery.com