Rod Coyne Shortlisted
Rod Coyne Shortlisted form 4000+ entries and you can help get his paintings to the prestigious 21st National Open Art (NOA) Exhibition, Southbank London, November 2017. NOA invite the public to vote for finalists. So as Rod battles to become one of those who will be exhibited and be in with a shot of the kudos and prize money in London this autumn he needs your help. Please vote for the paintings at these links: "Cill Rialaig Blaze" and "Skellig Fire & Ice".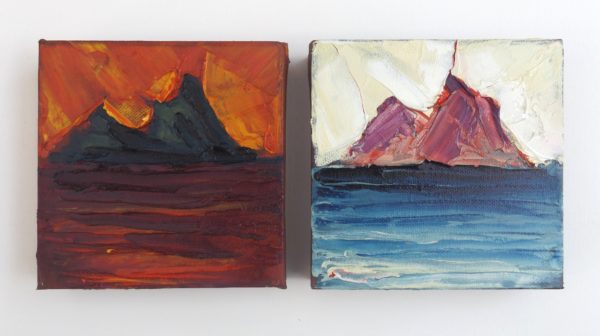 Rod Coyne Shortlisted "Skellig Fire & Ice" oil on canvas, 2x 15x15cm.
ZERO to HERO!
Rod who submitted his newest most experimental work #RodSeesRed was totally thrilled to get the following message in his mailbox:
"Dear Rod, Firstly, thank you for entering the 21st National Open Art Competition. We are absolutely delighted to announce that your submissions "Cill Rialaig Blaze" and "Skellig Fire & Ice" have been shortlisted by our panel of judges for the second round on 29 August 2017. Very many congratulations from us all here at NOA!"
Esteemed Panel of Judges
As usual NOA boasts the support of the art-wordls most celebrated and respected figures.  The 2017 Judges include Hughie O'Donoghue RA, Jane McAdam Freud, Kelvin Okafor, Cynthia Corbett & Zelda Cheatle. The 2017 moving images Judges are Elaine Pyke, Adam Saward and Marta Altés.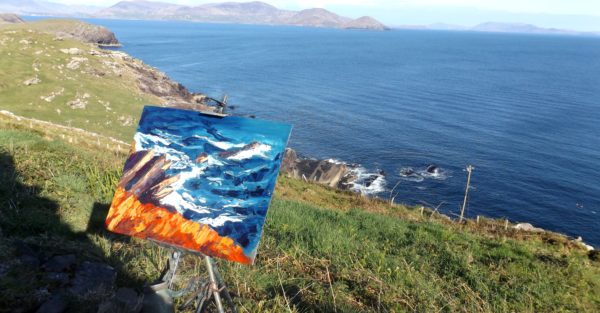 About National Open Art UK
National Open Art (NOA) is one of the UK's leading art competitions, open to amateur and professional artists in the UK and Ireland. Since our first competition and exhibition in 1996, we've grown to offer multiple prizes that recognise talent and artistic excellence in a broad variety of artistic mediums and styles. Our panel of judges changes annually and features some of the most experienced and influential figures in the art world, from Royal Academicians to critics, curators and professionals.
NOA now attracts more than 4,000 entries per year and we offer both shortlisted and winning artists exposure and income opportunities through our exhibitions and online art sales platform. By working hard to expand the scale and scope of the competition, we aim to give all UK and Irish artists a gateway to exhibit and promote their work, regardless of background, and encourage them to pursue a life in art.
National Open Art is administrated by the Chichester Art Trust, a registered not for profit arts charity, whose aim is to provide a truly open and fair platform for all UK and Irish artists.
Please vote for the paintings at these links: "Cill Rialaig Blaze" and "Skellig Fire & Ice".