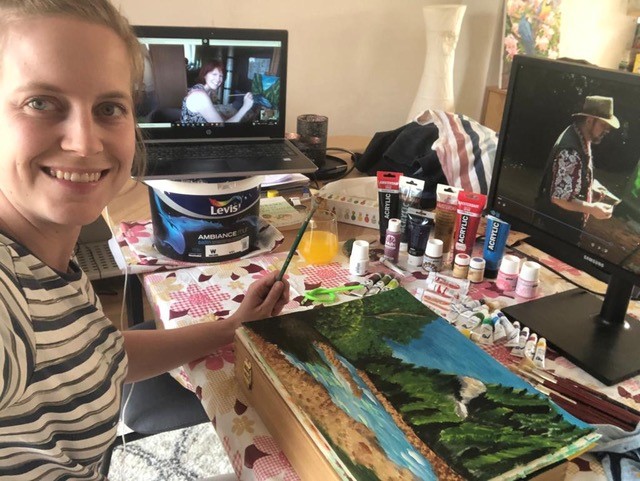 Beat the quarantine blues with a Gratis Masterclass.
It started with #Stayathome with Rod's "Secrets of the Palette Knife" free download .
As the Covid-19 lock-down continues we want to pass our time in fun and fulfilling ways. Eager to help, Avoca Gallery brought you a free DVD download. Now arty people are painting along with Rod Coyne at home, using his guide to landscape painting in the beautiful Vale of Avoca. Alternatively, other folks simply downloaded to enjoy a welcome escape to the Wicklow mountains while watching this hypnotizing and meditative insight into the creative process.

Now the Quarantine Creatives share their Art
"Using Roddy Coyne's "Secrets of the Palette Knife" as a guide, which I downloaded from his website , I completed this large canvas of The Meetings of the Waters in Avoca over the last couple of days – well I have to keep busy ! I really enjoyed using the palette knife, using acrylics with structure paste added, but it does use a lot of – I've run out of white acrylic paint, trying to source some on-line so I can keep painting ! — with Roddy Coyne. " – Wicklow based painter.

Facebook post link.
Now share Your Art
We are inviting everyone who has been inspired after enjoying Rod's "Secrets of the Palette Knife" to please share your work with us all. We want to see and share your versions of the Avoca River triggered by the video. And if your more the viewing type maybe you have a few words inspired by your journey through the Vale of Avoca with Rod. Creativity boosts our well-being so please share this FREE DOWNLOAD link with your art friends, friends and family the world over.
Call to action: inspire the nation.
We'll post your art works (anonymously if preferred or linked to your social media) here on this page. Please send your images to any of the following links:
Email: info@avocagallery.com
Facebook: Avoca Gallery
Twitter: Avoca Gallery
We at Avoca Gallery thank you heartily in advance.